The class for which a child is tested is determined according to the child's age as on 1st April (Because academic session starts in April)
Parents willing to admit a child should first register the child and complete the admission form at the school office
Admission is subject to getting through an admission test/interview
Assessment
Montessori Reception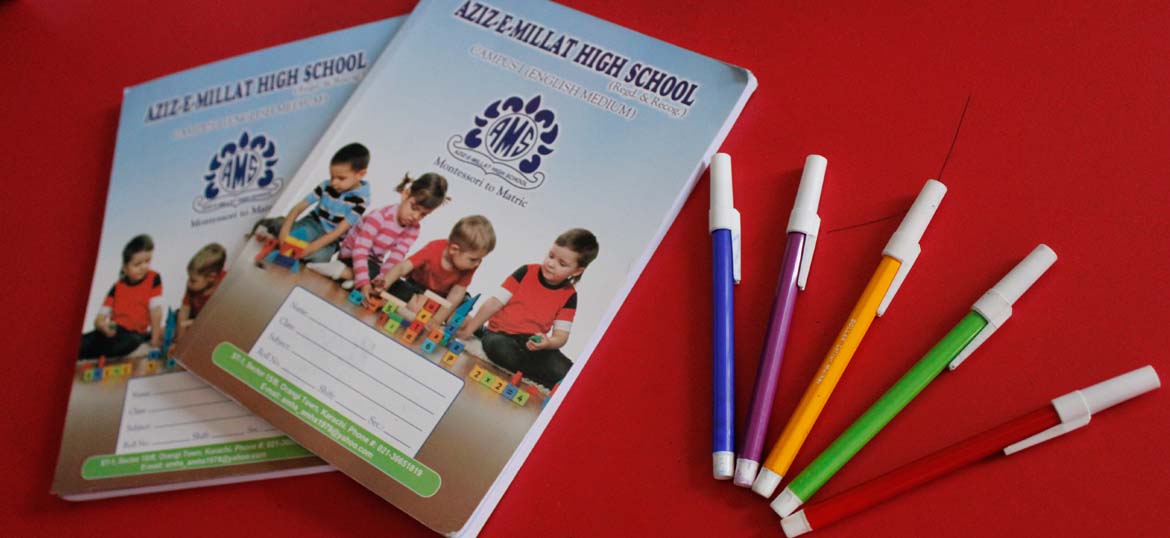 An informal individual admission test is taken combined with an interview with both the parents. Generally, the reading level of a child, the vocabulary and concepts of colors and number are assessed. In addition, the confidence of the child, the level of spoken English and motor skills are taken into consideration.
Montessori Junior & Senior
Candidates for class Montessori Junior and Senior are tested in three subjects-English, Urdu & Mathematics. For this purpose, after registration, the syllabus for the test is provided.
Class I to V
Applicants for class I to V are tested in three subjects-English Urdu & Mathematics.
Class VI to IX
Applicants for class VI to IX are tested in four subjects-English, Urdu, Mathematics & Science.
Admission Formalities
Details should be collected from the school office as soon as information is received that the child has qualified for the admission.

At the time of admission, a non-refundable admission fee and monthly fee of current month are payable.

Admission remains provisional and is not confirmed unless the following documents are submitted.
School leaving certificate and progress report card from the previous school attended.

Copy of birth certificate / B-Form. Original should be produced at the time of interview.
Admission fee is non-refundable. The admission fee and tuition fee are subject to review from time to time with or without notice due to inflation and increase in direct and indirect costs.
Age Limitation
Between
2 Years 5 Months to 3 Years 4 Months
Between
3 Years 5 Months to 4 Years 4 Months
Between
4 Years 5 Months to 5 Years 4 Months
Between
5 Years 5 Months to 6 Years 4 Months
Between
6 Years 5 Months to 7 Years 4 Months
Between
7 Years 5 Months to 8 Years 4 Months
Between
8 Years 5 Months to 9 Years 4 Months
Between
9 Years 5 Months to 10 Years 4 Months
Between
10 Years 5 Months to 11 Years 4 Months
Between
11 Years 5 Months to 12 Years 4 Months
Between
12 Years 5 Months to 13 Years 4 Months
Between
13 Years 5 Months to 14 Years 4 Months
Between
14 Years 5 Months to 15 Years 4 Months